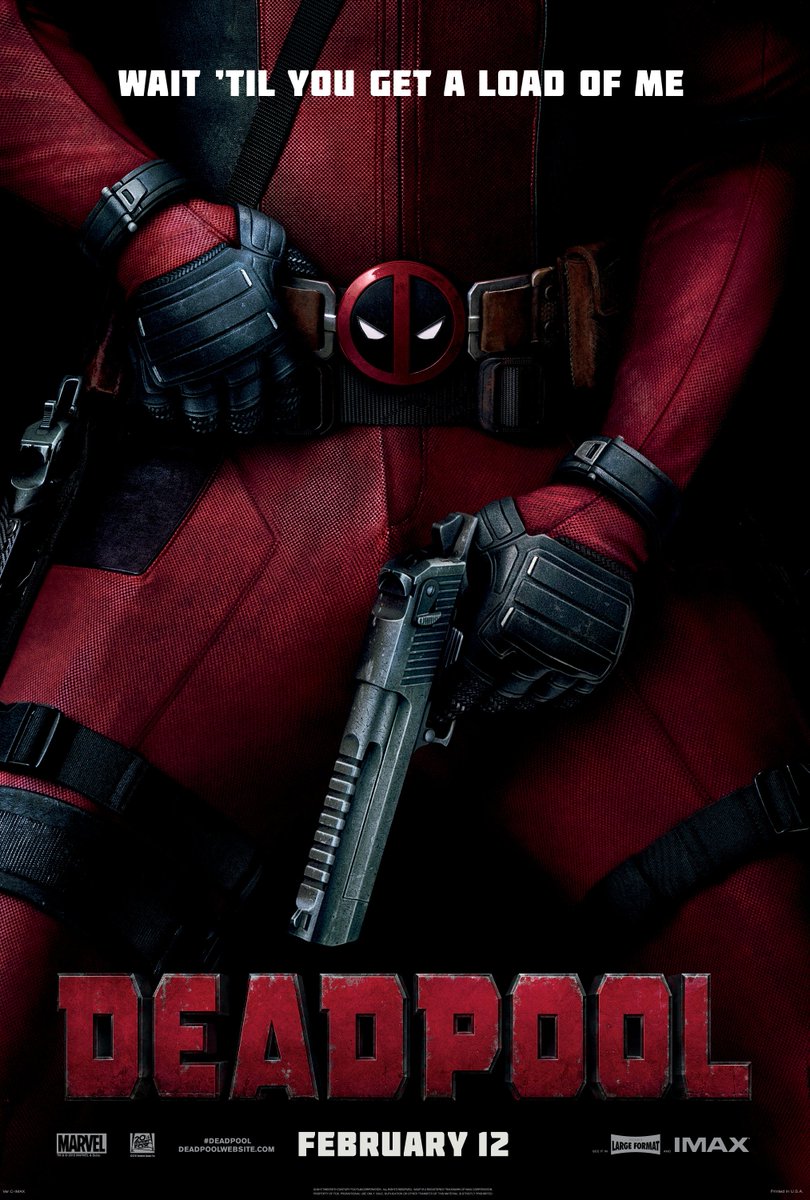 Based upon Marvel Comics' most unconventional anti-hero, DEADPOOL tells the origin story of former Special Forces operative turned mercenary Wade Wilson, who after being subjected to a rogue experiment that leaves him with accelerated healing powers, adopts the alter ego Deadpool. Armed with his new abilities and a dark, twisted sense of humor, Deadpool hunts down the man who nearly destroyed his life. – 20th Century Fox
I haven't always been a fan of Deadpool, for awhile I didn't even know who he was. That all changed for me when the 2013 Deadpool video game came out, it may have been a repetitive Arkham rip off but the character made it all worth it for me. Upon playing that game I instantly fell in love with Deadpool, his goofiness, craziness, self-awareness, murderiness (I know it is not a word but I bet Deadpool would use it). After that I got as many of his comics in my hand as a could and I read them all. I loved most of them, his moral ambiguity, how he wants people to like him, his wanting to be hero, and his interaction with characters in the Marvel Universe make the character all the more lovable. What's not to love? He is like if Deathstroke, Wolverine and the Joker had some crazy threesome and Deadpool was born. Anyways at some point during my discovery I came across a leaked script for Deadpool and I've been waiting ever since for a movie.
So Deadpool. Wow, it was good. I mean it was no Shawshank Redemption but it certainly was no Fantastic Four (that movie is utter trash and I am embarrassed to have seen it). I really enjoyed this movie and it was quite faithful to the comics much more faithful than X-Men Origins: Wolverine. The humor in this film was great, of course Deadpool was funny but Colossus and Negasonic Teenage Warhead were just as funny and boy did I love Blind Al. The action was good too, some cool set pieces, tons of fights including a naked one. I enjoyed the villain too, Ajax even if he is named after dish soap.As expected in this movie the fourth wall was broken and it was awesome and it wasn't over done. I am not going to spoil anything but he made some hilarious references to previous X-Men movies among other things and he even referenced Marvel Cinematic movies.
Deadpool was Tim Miller's directorial debut and the man did an excellent job, you only need to see the first scene to realize it, which was great by the way. The film itself was written by Paul Wernick and Rhett Rheese, they really captured the spirit of the character and wrote a good movie. The leaked script I read was the one written by them and I had noticed many similarities between the two. It is no surprise that the movie was written well as these two have had experience with the action/comedy genre they also wrote Zombieland.
There was plenty of great actors in Deadpool and they all did a good job portraying their roles but lets be honest the only one you care about is Ryan Reynolds as Deadpool. Reynolds is the perfect Deadpool, he can perfectly portray the crazy, the humor and the deadpool and we probably wouldn't have this movie with out him. Hell, he even did a good job in X-Men Origins: Wolverine, until Fox fucked Deadpool. Van Wilder is a good Deadpool and the bottom line is you don't have to be a comic book fan to enjoy this movie, though it would help seeing as there was over 100 easter eggs. But for real, see this movie.
I give Deadpool an 9 out of 10, would watch again.